Events
17 December 2021
13:00 - 15:00
Online event
Co-creating alternative `zero-waste' urban imaginaries: Sharing experiences and practices
Breaking away from damaging fossil-fuelled practices and transitioning towards urban sustainability has never been more pressing. Yet, in the rush to transition, sustainability related issues, such as waste, are often treated as objective and somewhat isolated challenges that can be addressed through top-down technological solutions. This fails to address what `waste' means to people on the ground and how they might imagine potential 'zero-waste' futures, which may prevent more sustainable futures to come about. Instead, seeing waste as an inherently cultural aspect of our cities, and, in Donna Haraway's words, "staying with the trouble" this might cause, can support the inclusion of multiple perspectives when (re)imagining 'zero-waste', circular urban futures.
"Freeing our collective imagination about diverse potential sustainable futures may be just the key to start building them together."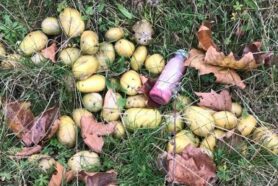 This colloquium concludes a short exploratory project that has taken a cultural stance on issues of waste and addressed the participation of citizens in imagining and shaping 'zero-waste' urban futures. The project was initiated by a group of researchers from Utrecht University and developed through close collaborations with creative practitioners located in Werkspoorkwartier, a former industrial area in Utrecht, currently being developed as a creative circular manufacturing area. Our work has primarily focused on creative methods of engagement with people from the area, to gather their perspectives and imagine together different potential pathways towards 'zero-'waste', circular futures.  In this colloquium, we would like to share our experiences, and invite practitioners and researchers from other urban contexts to share their work. In doing so, we hope to enable the addition of further perspectives and allow the conversation to continue, and the community to grow, beyond this project.
Preliminary programme
13.00 – 13.15  Welcome & Introductions
13.15 – 14.15  Perspectives on (re)imagining issues of waste from Utrecht, Rio, and Dublin
14.15 – 14.30  Q&A
14.30 – 14.45  Group discussion
14.45 – 15.00  Reflections & steps forward
Organisers: Corelia Baibarac-Duignan and Tamalone van den Eijnden
Partner organisation: Creative Coding Utrecht
How to join the meeting

If you would like to join, please send a message to Corelia Baibarac-Duignan, 

c.baibarac-duignan@uu.nl

. Corelia will send the meeting link after registration.