Events
11 April 2023
16:45 - 19:00
Oudegracht 270, Utrecht
The Silicon Passion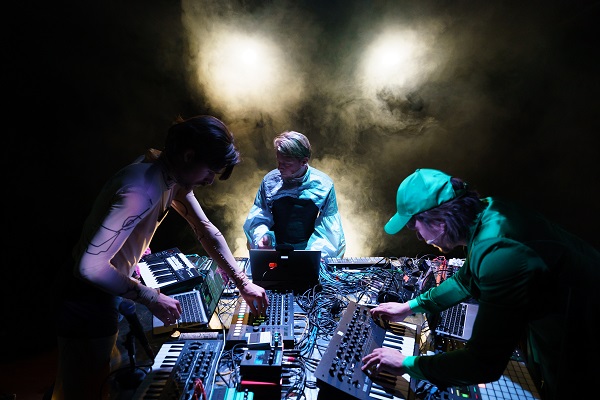 You are warmly invited for a theatre performance titled The Silicon Passion organized by the UU focus area Governing the Digital Society. Armed with Bachs' St Matthew Passion and synthesizers the performers search for a new way of dealing with big tech. The Utrecht-based media lab SETUP, in collaboration withDe Transmissie (David Schwarz and Derk Stenvers), are looking for a way out of the pit that technology has created for them.
They draw inspiration from one of the most important stories about penance: the crucifixion. Taking the St Matthew Passion as a starting point, both for the valuable lessons as well as musical inspiration, they want to find out exactly who or what should be nailed to the cross, and what the world might look like after a resurrection. Which day could be more suitable than April 11, the day after Easter, for such a reconsideration? Especially since the performance will be played in the Doopsgezinde Kerk (the Baptist Church) at Oudegracht 270.
After the performance Michiel de Lange will moderate an after-talk, during which the audience can engage with the actors and each other, focusing on the role(s) that (media) art in general and theatre specifically can play in addressing current topics and debates that are usually only considered from an academic point of view. Attached to this email, you will find a longer introduction to The Silicon Passion, and on this page you can read more and view a trailer!
Registration
Within the Doopsgezinde Kerk there are hundred seats available. As GDS' core community, we would like to offer all of you the opportunity to register first, so we can secure you a spot! Through this registration form, you can sign up for the GDS SIG day as well as for The Silicon Passion. Please do so before Friday February 17. After that, we will extend the invitation so we can make sure there are no empty seats. We will do so through targeted invitations and by offering the SIGs a small number of tickets to distribute among their network.
Don't hesitate to let us know if you have any questions about the GDS SIG day, the theatre performance or otherwise. Underneath you will find the full program of the day. We hope for it to be a great success that will strengthen the GDS community even further!
Program:
17.00-18.15 Theatre performance: The Silicon Passion
18.15-19.00 After-talk moderated by Michiel de Lange