Events
14 June 2017
14:30 - 18:00
Ravesteynzaal
Participatory Urban Interfaces June 14th
How can technologies play a role in shaping urban culture as well as urban culture research? This question served as the main guideline for the Participatory Urban Interfaces seminar held on June 14th. Sponsored by the focus area for Games Research and organised by Dr. Michiel de Lange and Sjors Martens from [Urban Interfaces] and The Center for the Study of Digital Games and Play this event gave visiting scholars Delaram Ashtari and Moozhan Shakeri the possibility to present their research on the role of technology in Tehran, Iran and the critical questioning of urban planning respectively. Next to that Gabriele Ferri from the University of Applied Science in Amsterdam and Sjors Martens from Utrecht University discussed a design method which gives cities a big role and a critique on the current practices of urban game design respectively. Master and research master students, PhD students, teachers, and professors from the Netherlands, Iran, Spain, and England came to explore how technological city crashers must be dealt with.
Delaram Ashtari – Hybrid Space and Its Reproduction in Urban Space – Effects of Mobile Technologies on Shaping Hybrid Urban Spaces in Iran
Delaram Ashtari is a guest scholar from Tehran, Iran at the [Urban Interfaces] group. In her presentation she looked at how digital technologies in Tehran have changed the intersections between citizens, technology, and places. Based on three cases in which the intersection of concerned citizens, a meaningful place, and (mostly social network) technologies, she set out to update urban planning discourse. Architects using digital means to gather stories about meaningful places to prevent demolition, a neighborhood protected by large tech coordinated citizen protests, and a viral and physical campaign making a new cycle lane a reality; all these initiatives shows that citizens now have more a right to ownership than the original right to the city. The lasting consequences of the new dimensions of citizenship in Iran are still to be seen. Delaram Ashtari's work highlights among other the importance of paying heed to cultural variance between hybrid cities and civic participation.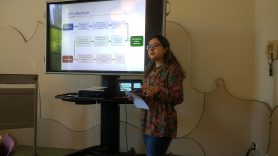 Moozhan Shakeri – New Media Trapped in an Old Rationality – the Case of Use of Digital Games in Participatory Planning Processes
Where Ashtari looked at how traditional urban planning concepts in Iran should be updated, Moozhan Shakeri from Newcastle University zoomed out considerably. Similarly reflecting on concepts, Shakeri approached urban planning from a meta or theoretical perspective. Her main argument rebelled against the reigning paradigm in urban planning – presumptions have to be questioned more and theory should garner more respect. Presumptions about Regimes of Publicity (like participation is good by default) have effect on the urban experience, which influences the role of technology. Shakeri made the bombshell claim that many models that are used to understand technology in the city are outdated and need new validation. Gauging perception is expensive however so the best way to approach this would be to value theory in planning more than is done now.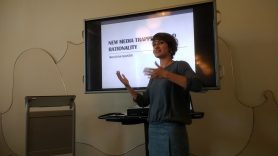 Gabriele Ferri – The "Well-Played Research" – Game-making as a Qualitative Research Methodology
As member of the Play and civic media group Gabriele Ferri brought a methodological approach to game design in cities forward that have been turned into a fully-fledged master programme. Ferri explained clearly that videogames are not magic bullets – they don't magically solve problems. To fully understand what they can be used for he instead introduced a new design methodology:
Research through Design + Action Research + Speculative Design = Making games for Research
For Ferri and his colleagues the process of making games, focused on real world problems, while leaving room for the player to imagine and speculate on future scenarios, can help researchers to gather data or gain insights by making games. Through the examples of Submerged and Cognoscenti Ferri informed everyone that making games for research – be it into cities or global warming – is a path to be explored, for it turns games in to tools for data gathering. Especially the relation between situatedness of the game and the liminal – or separated interaction – is one to explore.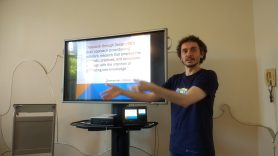 Sjors Martens – The City-Game Cycle: Reverse Engineering Urban Technologies
Having featured international case studies, meta reflections on theory, and design recommendations, the conference ended with Sjors Martens who was going to stoke the fire a bit more. He argued that the design process of games for cities was fundamentally flawed, due to the faulty presumption that games are magic bullets. Instead, Martens argued, every designer and stakeholder has a mental model of the city they want to achieve – the city model – that influences what mechanics and rules go in the game because they shape the ultimate goal. However, when playing the game sometimes more actions are afforded to the player, thus possibly giving rise to different city models at the back end. Focusing on whether the pursued city model fits with the experienced city model will allow designers to take a more realistic approach to what games can do. While obviously losing their magic bullet status is a shame, this critique does allow games for cities to be more successful and effective.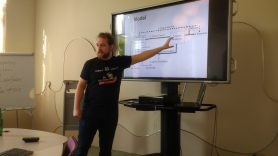 While a sobering experience, despite ending in drinks, the seminar inspired those present. More questions popped up, focused on the paradigm of urban planning, the tension between liminal experiences and situated events, and the abstraction of cities into models. With the new contacts made through this event, these questions are no longer the obstacles they once were. Same time next year?